Cycle of Life (SOLD)
Purchase museum quality prints of this painting at my Etsy shop. Prices start at $16 and I offer free shipping on all prints.
Done on commission for the Union County Middle School nurse's office, Cycle of Life is all about water. Hopefully it will inspire students to eat a healthy diet and to stay hydrated, which is something we all need to do.
This painting was done on stretched canvas and is part of my Colored Shapes with Black series. I paint beyond the edge, completely covering all sides with color. You can hang Cycle of Life without a frame for a minimalist look. When a painting is completed, I spray it lightly with clear, protective acrylic for a durable finish that will last for centuries.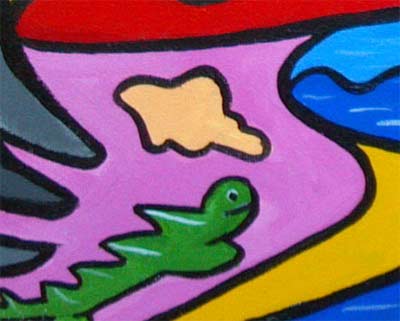 With brightly-colored animals, fruits, vegetables, farmland, and a river, this painting was inspired by nature. Do you like my green lizard? I sure hope 12-year-olds don't think it's too childish.
______
© 2022 by Janice Boling - all rights reserved.